THE CADILLAC ESCALADE 2020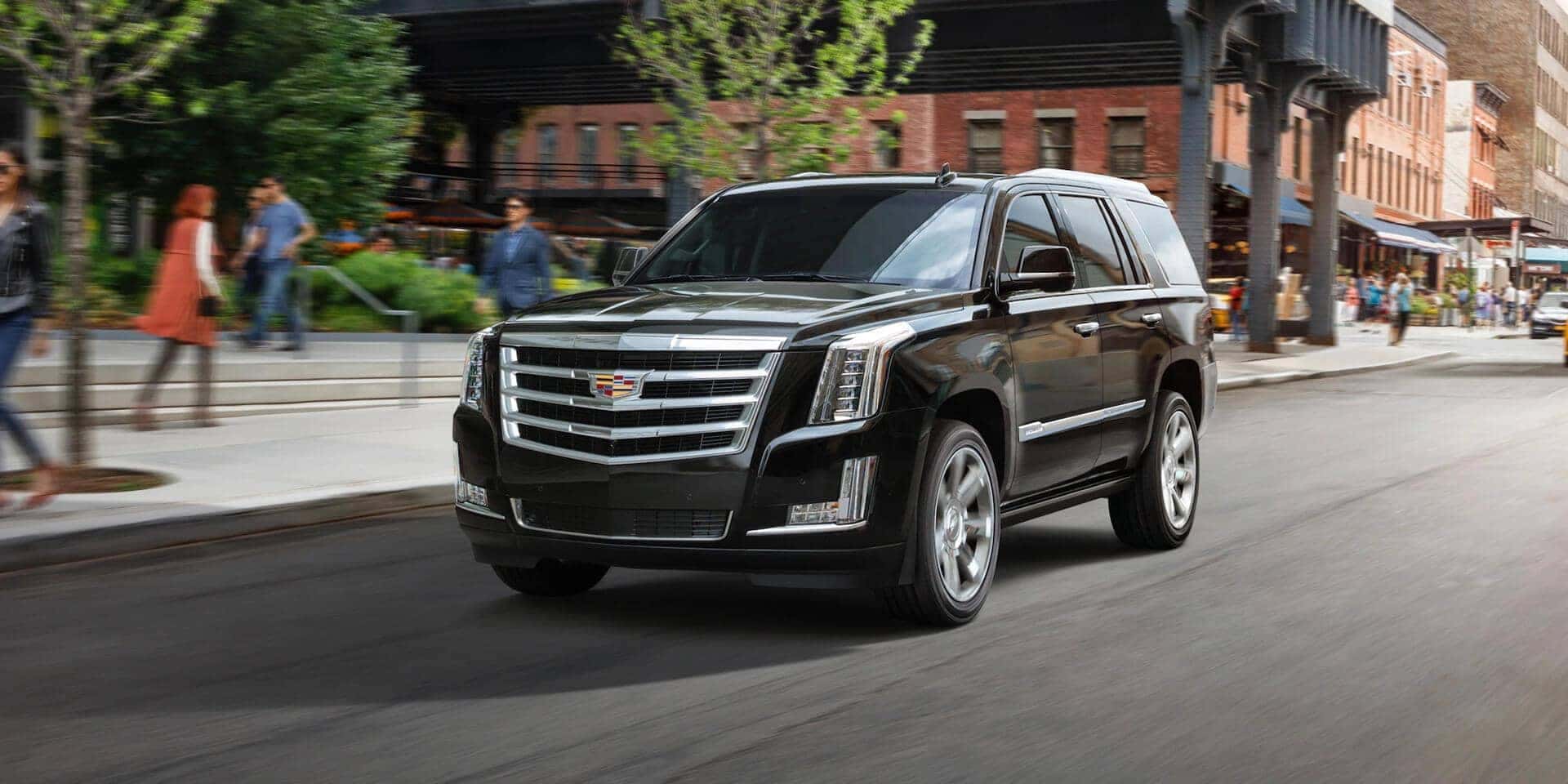 Ever since the first Cadillac rolled off the assembly line, this American brand has been synonymous with luxury and class. Rest assured that if you like the luxury of a Cadillac, you will surely fall in love with the Escalade full-size sports utility vehicle (SUV).
The 2020 Cadillac Escalade is the one vehicle that you would want to take home with you. Not only is it the very definition of class, but it is also full of some of the most awesome luxuries available in a vehicle today. The Escalade's first generation was first launched back in 1999, and its 2020 iteration is part of its fourth generation, which was launched a few years back.
The SUV is available in four trims and all of them beautifully carry the unique and artistic design elements that are the trademark of this brand. Furthermore, all of these trims are available in 4×2 and 4×4 configurations as well as standard and extended-length sizes (ESV). Let us check out some of the stellar qualities that set apart the Cadillac Escalade Huntsville from other SUVs in the same price range:
THE GLAMOROUS EXTERIOR
The Escalade has a massive and hulking profile and a very crisp front-end design. Both the headlights and the taillights have a vertical stance. This has been deliberately done in order to draw attention to the Cadillac Escalade's absolutely towering height. The horizontal bars run through the evenly stacked front grille and, together, they provide a very neat contrast to the main front lights. In fact, it is this sense of overall balance that helps this SUV to stand out from many others in its class.
THE INTERIOR OF THE ESCALADE
Overall, the interior has been equally well-designed and comes complete with decorative stitching mated to premium leather material to enhance its elegance. The automakers have given extra attention to its beautiful dashboard and its smooth, angled surface is easy on the eye and it can clearly be seen, even in bright sunlight.
The center stack has also followed this pattern, and all of the vehicle's features are within easy reach of the driver. This way, there is no need to look away from the road while operating the Escalade's controls. Apart from that, the interior of the SUV has been designed to ensure that it remains on top of its class due to an array of value-added features that include the following:
EIGHT PERSON SEATING CAPACITY
This is a very roomy and luxuries SUV that can seat up to eight people. Leather upholstery is standard for all trim levels and the same goes for ventilated and heated front-row seats along with a leather-wrapped and heated steering wheel.
Depending on the trim level, 12-way power adjustment seating options are available for the Escalade along with heated second-row seats, and a fully powered auto-folding third row.
The premium trim levels offer 18-way power-adjustable front seats with an inbuilt massage function so you don't feel cramped on those long drives on the interstate. A power-retractable step is also available to assist the elderly or physically impaired people during entry and exit.
The third bench row is a bit cramped with the standard length version, but this is not an issue with the long-wheelbase Cadillac Escalade ESV, thanks to its extra legroom.
ESCALADE'S CAR SEATS
The Cadillac Escalade 2020 has extremely comfortable seats with multiple power options. You can either go for the standard duel captains' chair option or alternately, select the bench seat option. Each third-row seat has been equipped with a single tether anchor.
THE CABIN
This top-end luxury vehicle has been recently redesigned with an upscale cabin. It has been accented with premium leather on the seats and steering wheel to enhance the overall feel of this SUV. The top trim is also available with real wood finish.
CARGO SPACE
The Cadillac Escalade standard version has around 15.2 cubic feet of space when you place all three rows upright and are traveling with a full complement of one driver and seven passengers. However, this space expands to a fairly large 51.6 cubic feet once you fold the third row of the vehicle. In case you fold down both the rear rows, the total cubic space increases to an absolutely cavernous 94.2 cubic feet. These figures are far higher than most other SUVs in the Escalade class.
The long-wheelbase variant of the Escalade ESV boasts of an even larger 39.3 cubic feet of space located behind the third row. This is increased to 76.7 cubic feet once the third row is taken down and a gargantuan 121 -cubic-foot of maximum cargo capacity once both the back rows have been folded and stowed away.
ESCALADE BLUETOOTH, INFOTAINMENT, AND NAVIGATION SYSTEMS
The Cadillac Escalade Huntsville has been equipped with the state of the art CUE infotainment system as standard equipment.
The CUE software system is setting new standards when it comes to interacting with your vehicle. It has a sleek tablet-like display that blends the functionality of a smartphone with the entertainment value of a top-notch entertainment system.
CUE brings a whole new world of user-friendliness into your vehicle. The best part of this system is that it can also be personalized depending on easily downloadable apps. You can also program it for both radio and satellite airwaves.
Its many subsystems include the following:
An 8-inch touch screen
Apple CarPlay,
Android Auto
A highly accurate navigation system,
Wireless device charging
Wi-Fi hot spot
Satellite radio
High definition (HD) Radio,
Bluetooth connectivity (both incoming and outgoing)
4 USB ports, and
An excellent 16-speaker Bose surround-sound system
In case you decide to select the premium or luxury trims you will get a panoramic sunroof as well as a rear-seat entertainment system with its very own 9-inch screen.
POWER PLANT AND TRANSMISSION
The vehicle has a really powerful 6.2-liter V-8 power plant that churns out 420 horsepower (HP) to either the rear wheels (2×4 version) or all four wheels simultaneously (4×4 version).
The engine has been mated to a 10-speed automatic transmission and this combination is standard for all of the trim levels. It is big, fast, and powerful and you can rely on it to get you through, regardless of the terrain. It offers an average of 17 to 23 miles per gallon (mpg) and slightly less if you are into some serious off-roading with the AC going full blast. These are very good fuel economy averages and far better than most large SUVs available today.
The Caddy's V8 engine provides plenty of power for almost all driving needs. The acceleration is so fast and flat that you barely notice the speedometer creeping upwards. This has a lot to do with its ten-speed auto transmission that makes for incredibly smooth gear shifts.
RIDE COMFORT
The ride is soft and smooth, and it can easily absorb even the harshest impacts better than its Chevy and GMC siblings. This is largely due to the standard driver-adjustable dampers installed on the vehicle. The Escalade is also capable of lugging up to 8,300 pounds worth of weight so you can hitch it to even a large trailer without any fear of the engine overheating.
DIMENSIONS AND WEIGHT
The 2020 Cadillac Escalade Huntsville is a very big vehicle and it hovers between 17 and 19 feet in length. The total curb weight ranges from 5,311 up to 5,728 pounds, depending on the trim level and installed accessories.
CADILLAC ESCALADE WARRANTY
The good people at the Cadillac dealership Huntsville back their vehicle with a four-year or 50,000-mile (whichever comes first) bumper to bumper warranty. Apart from that, the powertrain has its own extensive 70,000-mile warranty.
ESCALADE SAFETY FEATURES
The National Highway Traffic Safety Administration (NHTSA) gives this vehicle its top-level safety rating of five out of five stars in the side crash test. This means that the vehicle is as safe as it can get, and it will retain its structural integrity even in case of a high-speed crash. It also has several additional safety features to ensure both the safety and the comfort of everyone in the vehicle.
A PARK ASSIST SYSTEM
This is a fairly large vehicle and it requires safe handling to ensure that it does not get nicked or scratched when you are parking it. The Escalade's cutting edge Park Assist System (PAS) ensures that you are able to park safely and easily. It gives visual and audio cues in case you get too close to the curb or other vehicles. The system works with the help of a rearview camera and front and rear parking sensors. Apart from that, it also has a surround-view parking camera system that offers a panoramic view of every side of the vehicle. The windshield wipers are automated on every trim level and they start working when they detect rainfall.
TEEN DRIVER
This is a parental control system that allows you to set both speed and volume restrictions for young secondary drivers. Some of the other available driver aids include:
Low-speed automatic emergency braking
Full-speed forward emergency braking
Forward collision warning
Safety alert seats
Reverse automatic emergency braking
Lane assist
Lane departure warning
Lane change alert
Blind-spot monitoring
Adaptive cruise control (ACC) for highway drives
Adaptive headlights
Rearview camera mirror, a head-up display HUD) and
Automatic high beams
The vehicle is available in the following trims at a Cadillac Escalade dealer near you:
TRIMS
CADILLAC ESCALADE (STANDARD)
This is an entry-level Cadillac Escalade. However, it is pretty loaded when compared to many other high-end SUVs in its price range. It is equipped with some industry-leading features such as Magnetic Ride Control suspension, a locking rear differential, and the CUE infotainment system. If you decide to purchase a base model you will get:
Leather upholstery
Wireless device charging
Hands-free liftgate
Twelve-way power-adjustable front seats with both heating and ventilation options
Power-folding third-row seats
Heated leather steering wheel
Tri-zone automated climate control system
Auto-dimming rearview mirror
Remote start
Proximity keyless entry and
Push-button start
CADILLAC ESCALADE LUXURY TRIM
The luxury version of the Cadillac Escalade differs from the standard trim in the following ways:
Larger alloy wheels, panoramic sunroof
Second-row fold-and-tumble seats
Rear-cross traffic alert
A rear-seat entertainment system with its own 9-inch screen is also available with this trim for an additional $1720.
CADILLAC ESCALADE PREMIUM LUXURY
The Premium Luxury trim has even more value-added safety features that include forward and reverse automatic braking and adaptive headlights. The rear-seat entertainment system is a standard part of this trim. Illuminated door handles are also available along with a multi-zone auto climate control system. Auto-retractable assist steps are an add-on but for an extra $1,750.
CADILLAC ESCALADE PLATINUM
The high-end Cadillac Escalade Platinum features premium leather for the front passenger and driver seats as well as the back seats. However, third-row bench seats have been equipped with Mulan leather. This trim option is available with 18-way power-adjustable front seats that also have a button operated massaging function incorporated into the backrest. It is also equipped with a center console cooler and auto-retractable assist steps as standard. The dashboard and front consoles have real wood trim installed in the front area of the cabin.
The Escalade shares a lot of its external and internal aspects with the Chevrolet Suburban. In fact, many people think it to be a more refined version of that vehicle.
CONCLUSION
The 2020 Cadillac Escalade is widely considered to be the king of bling, and there is no way that it is going to abdicate the throne just yet. You should visit the closest Cadillac Escalade dealer to check out this vehicle and its many trims and see which one works best for you.